Glory finally gave birth on Monday, surprisingly enough, to a singleton. Glory was huge and I thought she would have twins or triplets. She had a little doeling, who is pretty good-sized. She seems almost as big as Avenger's babies, who are a month older! She is very pretty and I've never had one this color before, so she's definitely a keeper! I've decided to call her Durango.
I let Joe name Avenger's two doelings: Rubicon (Ruby, for short) and Sahara. So now we have a couple Jeeps to add to the Dodges! They are growing like weeds, but can still slip out the cattle panels to munch on greener pastures.
They are very comical to watch when they're jumping off things and butting heads. They also like to sleep in tires like Durango does. Gives them a little buffer from the horses and other goats. At least until it gets dark and the chickens roost on them like they are in a football huddle.
I moved Hermione's kittens to the barn after she killed one of the chicks. She left them there for a week or two, but the other day moved them under the front steps. I took them back to the barn, but she brought them back again, so there they stay. She puts them inside a hole in the landing before you go in our front door at night because there is insulation for the trailer inside to keep them warm.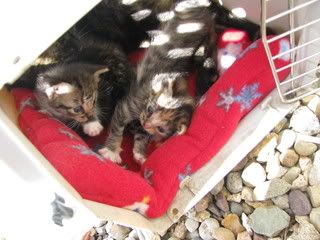 Their names are Sugar, Spice, and Henry. Henry is the one that was almost dead when I found her. She must remember that I was the one who saved her, because she's the only one that purrs for me so far. Henry is silver tabby and white. Sugar and Spice are dilute calicos.